Mutual Funds - Profile
RBC International Opportunities Fund
INT > Multi-Cap > Growth
Summary
The fund seeks capital appreciation in the long term by investing in companies across any size outside the United States.
The sub-adviser's investment process starts with a list of companies in the benchmark index and the research team utilizes quantitative techniques and fundamental analysis to identify investment opportunities.
Next, the research team focuses on high-quality global companies that have superior competitive dynamics, such as winning business models, expanding market share, growing end markets and capable management teams.
Additionally, the team integrates environmental, social and governance factors as part of its process.
Then the manager More
Price
52 Week HL
$13.71 - $12.17
Sector Allocation

Mar 31, 2021
Top 10 Holdings

Mar 31, 2021
| Company | Holding |
| --- | --- |
| Naspers | 5.97 |
| Taiwan Semiconductor | 5.87 |
| Nidec Corp | 5.10 |
| Roche Holding | 4.67 |
| Deutsche Post | 4.65 |
| Company | Holding |
| --- | --- |
| AIA Group | 4.65 |
| HDFC Bank | 4.39 |
| Industria De | 4.12 |
| Oersted | 4.07 |
| Partners Group | 4.06 |
| Total | 47.55% |
Manager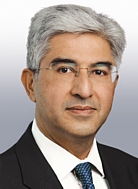 Leadership
Single Manager
Advisor
RBC Global Asset Management (UK) Limited
| | 2022 | 2021 | 2020 | 2019 | 2018 | 2017 | 2016 | 2015 | 2014 | 2013 | 2012 |
| --- | --- | --- | --- | --- | --- | --- | --- | --- | --- | --- | --- |
| RIORX | 0% | 29% | 16% | 29% | -6% | 19% | 8% | -1% | 14% | 29% | 13% |
| S&P 500 | -10% | 27% | 16% | 29% | -6% | 19% | 10% | -1% | 11% | 30% | 13% |
| | 2022 | 2021 | 2020 | 2019 | 2018 | 2017 | 2016 | 2015 | 2014 | 2013 | 2012 |
| --- | --- | --- | --- | --- | --- | --- | --- | --- | --- | --- | --- |
| Q1 | -1.9% | 0.8% | -25% | 14.4% | -2.5% | 7.6% | - | - | - | - | - |
| Q2 | - | 5.1% | 17.9% | 4% | 0.1% | 6.8% | -100% | - | - | - | - |
| Q3 | - | 4.8% | 10.9% | -1.7% | 1.5% | 7.7% | -100% | - | - | - | - |
| Q4 | - | -3.3% | 17.1% | 5.2% | -14.1% | 7.6% | -0.7% | - | - | - | - |
| | J | F | M | A | M | J | J | A | S | O | N | D |
| --- | --- | --- | --- | --- | --- | --- | --- | --- | --- | --- | --- | --- |
| 2022 | -5% | - | - | - | - | - | - | - | - | - | - | - |
| 2021 | -0.1% | 1.8% | -0.9% | 1.8% | 4.7% | -1.4% | 0.2% | 3.7% | 0.9% | -1.9% | -3.4% | -5% |